The 2011 Commodity Classic is one for the record books.
Attendance at the annual meeting of corn, soybean, wheat and sorghum growers shattered previous records. Total attendance was more than 4826, breaking the previous record at Nashville three years ago by almost 300. Total number of growers was over 1600, compared to the previous record of 1513 in 2009 in Grapevine. The number of media was down a bit, but still a pretty substantial 126. Next year, Classic is back in Nashville, maybe to set yet another record!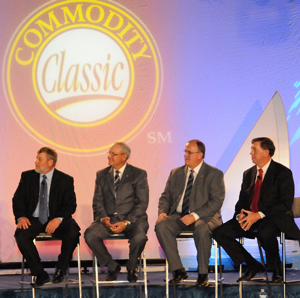 In a show of unity, the leadership of the National Corn Growers Association, the National Association of Wheat Growers, the American Soybean Association and the National Sorghum Producers issued a joint statement on the federal deficit and debt reduction following the conclusion of the Classic business sessions.

"We note that agriculture made a down payment in cutting spending when the Department of Agriculture directed $4 billion in savings under the Standard Reinsurance Agreement for federal crop insurance toward deficit reduction. We believe any further reduction in discretionary spending should recognize and reflect this contribution. We would also note that agriculture-related programs represent less than one-half of one percent of the federal budget.
"Looking forward, we believe any meaningful approach to deficit and debt reduction in the FY2012 budget must encompass all entitlement programs and all discretionary spending. We look forward to working with Congress and the Administration to develop a budget that successfully addresses the need for federal deficit and debt reduction balanced with the need of ensuring a successful agricultural economy."
Special thanks to John Deere for helping to sponsor our coverage of the 2011 Commodity Classic!
2011 Commodity Classic Photo Album
AgWired coverage of the 2011 Commodity Classic