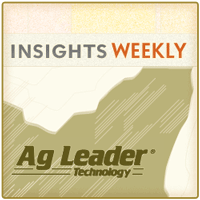 The fourth largest indoor farm show in the country is prepping for it's 56th annual show in Des Moines, Ia., on February 1-3. It continues to break attendance records now for seven years in a row, with around 19,000 attendees spread out among six floors in the three buildings that comprise the Iowa Events Center (Hy-Vee Exhibit Hall, Wells Fargo Arena and Polk County Convention Complex). This year you'll find around 640 companies exhibiting their products and services.
I caught up with Katie Beeler yesterday, Ag Leader's marketing communications coordinator, to talk about their presence at the show. Aside from being a major sponsor at the three-day event, the company will conduct three educational sessions during the show.
• Tuesday, February 1 at 11:30am, Ag Leader's Chad Huedepohl will talk about the OptRx Crop Sensor system. You'll learn how they measure and record data as you drive through the field—providing information on crop health, while allowing you to apply prescription nitrogen rates based on plant need.
• On Wednesday, February 2 at 10:45 am, Jeff Bentley from Ag Leader will help growers understand its ParaDyme Autosteer system and CORS networks. Come learn about the most advanced guidance system, and how it has the capability of using built-in cellular signals for remote service and connection to the CORS network.
• Also Wednesday at 12:15 pm, Ag Leader's Michael Vos will discuss the power of all the data that can be collected during a cropping season, and show how the company's SMS software can work the data to help improve management decisions.
Click on 'Seminars' at the Iowa Power Farming Show website for the entire rundown.
And if new products excite you, Beeler says Ag Leader will be talking about three new precision farming tools at their booth, along with their full product line. "Come learn about our new Advanced Seed Monitoring through the SeedCommand system that improves planter performance monitoring and control through the INTEGRA display. We'll also showcase the new GPS 2500 all-in-one antenna and GNSS Receiver that can utilize GLONASS satellites and differential correction from WAAS/EGNOS and OmniSTAR XP/HP/VBS. And we'll have the new Mesa Rugged Notepad at the show running our SMS Mobile software so growers can check out this valuable in-field tool," she says. Ag Leader will be in Booth #306 in the Polk County Convention Complex.
The Iowa Power Farming Show is sponsored in part by Farm Credit Services of America, Ag Leader Technology, Bayer CropScience, Stine Seed, and The Stewart-Peterson Group. The show is owned and managed by the Iowa-Nebraska Equipment Dealers Association (I-NEDA). I-NEDA represents over 400 agricultural, outdoor power and industrial equipment dealers throughout Iowa and Nebraska. For more information about the show and a list of show exhibitors, visit www.iowapowershow.com.
Visit these links for more information.
Iowa Power Farming Show http://www.iowapowershow.com/
New Advanced Seed Monitoring
http://www.agleader.com/2010/12/03/ag-leader-announces-advanced-seed-monitoring-functionality-for-integra™-display/
New GPS 2500 GNSS Receiver
http://www.agleader.com/2010/11/01/ag-leader-announces-new-gps-2500-gnss-receiver/
New Mesa Rugged Notepad
http://www.agleader.com/2010/11/01/ag-leader-offers-new-hardware-option-for-sms™-mobile/
Ag Leader dealer locator http://www.agleader.com/dealer-search/