Precision agriculture is the focus of many educational sessions at the 2011 AG CONNECT Expo in Atlanta this weekend. One of the very first sessions that was held on the Friday special preview day was "Implementing an On-Farm Research Program" presented by precision agriculture advocate Harold Reetz of Reetz Agronomics.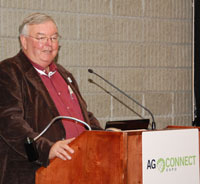 "Every farmer ought to have an area set aside that he's testing new things under his management conditions," Harold said. "We have a lot of new equipment, new products, new varieties that are coming on line and as we get to site specific management and fine-tuning the management on your farm, you really have to evaluate each of those things on your farm under your conditions to see if it fits and will improve your profits or your environmental impact."
He explains that site-specific technology provides the tools to do the research. "Every field can be a research plot where we're testing something new. We can set it up on the computer, apply the treatments as you're doing normal farming operations," he said. "You learn more about your operation and how you can improve what you're doing."
I also chatted with Harold about how fast the technology for precision farming has grown in just the last 15 years, now incorporating wireless internet and smartphones, "We're doing so much more than we dreamed of 15 years ago – it's unbelievable!" he says.
Harold also talks about the recently formed International Society for Precision Agriculture and the2011 InfoAg Conference, coming up July 12-14 in Springfield, IL.
Listen to the whole interview with Harold here: [wpaudio url="http://zimmcomm.biz/AEM/agconnect-11-reetz.mp3″ text="Harold Reetz at AG CONNECT"]
You can see photos from AG CONNECT
2011 AG CONNECT Expo Photo Album