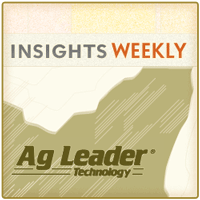 What if you had good solid data that could be correlated and optimized for fertility, seeding rate, hybrid/variety type, and crop inputs—all by different management zones—for every field you farm?
To that end, I spoke today with John McGuire, owner and tech guru of Simplified Technology Services in Montpelier, Oh., who is helping growers in northwest Ohio figure out their fields with the help of powerful Ag Leader SMS Advanced software. McGuire works with growers on ways to optimize yield data collection, build management zones, conduct field research and help turn all that data into profitable management decisions.
"The first issue we help growers with is obtaining quality yield data with tools I developed to make yield monitor calibration easier. Once we have the data, then we sit down with growers and review each field with a LCD projector on a white board so the farmer can circle suspect areas of fields," McGuire says.
He then takes all that information to set up management zones based on patterns they see in the fields then develop soil sampling plans from that. And as farmers obtain more data—such as Veris soil electrical conductivity, elevation data, planting data, product application data—he relies on the computing and analysis power of SMS Advanced software to layer all this data with yield and management zones.
"SMS allows us to look at many different comparisons, even point-by-point in a field, in order to look at many 'what if' scenarios to help figure out different approaches to try to solve problems areas of fields," McGuire says. "And no matter what type of precision farming equipment a farmer uses, we can handle many data formats with SMS."
Once farmers get comfortable with understanding what the software and data comparisons can do, then some will take it a step further and want to build strip trials into fields in order to make better management decisions. "We have a handful of growers who are conducting strip trials to compare hybrids and varieties, fungicides, seed treatments, nitrogen, P & K, seed populations and more. And as we add these data layers of results, the analysis tools in SMS Advanced really help growers make management decisions that save money and add profits," he says.
"I've been working with SMS for almost ten years. I'm impressed with how much time Ag Leader spends polishing and continuing to tweak this already powerful software, constantly listening to users and providing superior analysis tools. It doesn't get any better than SMS, as far as I can tell," McGuire adds.
When not immersed in dealing with data, McGuire also works as a sales and service guy for Nester Ag Management, a precision agriculture equipment sales company.
Visit these links for more information.
SMS Advanced http://www.agleader.com/products/sms-advanced/
SMS Basic http://www.agleader.com/products/sms-basic/
Nester Ag http://www.nesterag.com/
Previous story on SMS and in-field scouting
http://precision.agwired.com/2010/06/how-software-helps-in-season-scouting-and-management-zones/