Think of it as precision dating for farmers who are single and looking, but too darn busy to waste time weeding through potential partners who just don't get it.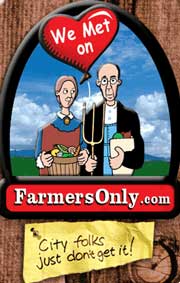 The Farmers Only on-line dating service is still going strong after five years, because "city folks just don't get it." FarmersOnly.com was launched in August of 2005 and according to founder Jerry Miller, it quickly became THE place for farmers and ranchers to meet like-minded people.
"There have been countless successful matches and friendships made on the site. I get thank you emails and phone calls almost daily. In fact, there have been hundreds of marriages since FarmersOnly.com began," Jerry says.
In the last five years, membership went from 2,000 to well over 100,000 members, and despite the name, FarmersOnly actually does include non-farmers looking for love – as long as they "get it." That would mainly include good old fashioned, down-to-earth people who live in small towns and rural areas.
Jerry designed the site after talking to a frustrated divorcee who found that the regular on-line dating services were populated by "city folks" who "just don't get" the lifestyle of farming. "I talked to farmers and ranchers all over the country and discovered they all had the same problems. They already knew everybody in their immediate areas. They didn't have enough time to socialize. When they did find time, they didn't want to hang out at a bar. They wanted to find someone who understood their lifestyle," he said. "The need for this new online dating service became very clear and six months later, I launched www.FarmersOnly.com."
Check it out if you're single and looking on the farm.