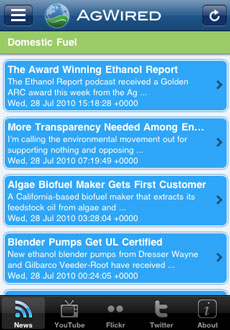 If you have an iPhone and would like to get Precision.AgWired.com posts fast and easy on it, there's now an app for that. ZimmComm New Media this week introduced the Agwired iPhone app that allows quick access to all of ZimmComm's on-line publications, including Precision.AgWired.com. The app is now available for iPhone users to download, free of charge, in the Apple iTunes store.
The app offers one-touch access to all the latest news and information in the agribusiness and agricultural marketing world posted on Agwired.com, including audio, photos and video, and connections to other ZimmComm news sites. The AgWired App features a news tab drop down menu to select ZimmComm News Network feeds as well as individual news on AgWired.com by category.
"Apps just make on-line access from an iPhone quicker and easier," said ZimmComm president Chuck Zimmerman. "We wanted to be the first to develop an iPhone application to show that it can be done and that there is a demand for this new technology tool in the agricultural world."
ZimmComm owns and operates four web-based news sites that are now accessible from the new iPhone app: Agwired, focused on news from the world of agribusiness; Energy.AgWired.com, which is all about renewable energy – from ethanol and biodiesel to wind and solar; Animal.AgWired.com for the dairy industry; and Precision.AgWired.com, which focuses on information about precision agriculture technology.