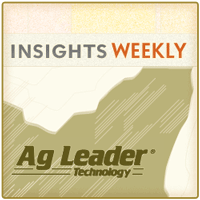 When discussion centers around all the data that fields can generate these days, crop consultants and savvy growers truly love powerful software programs. Especially when data can transfer easily between desktop and a mobile device to take to the field.
I spoke with Greg Kneubuhler the other day, who is a certified crop consultant, agronomist and owner of G&K Concepts in Harlan, Ind. Greg has been a true pioneering consultant in the NE Indiana/NW Ohio area—starting growers down the precision farming/yield gathering path back in the late 1990s. Today, his clients' business has evolved into intensive precision management that includes precise zone management and applying the right variable-rates—all driven by on-farm research on every farm. To help accomplish such research, Greg works on numerous projects in cooperation with Joe Nester of Nester Ag, Bryan, Ohio.
"We've always used a zone management philosophy in fields—which started with soil types. Then we added yield and soil test data layers to begin developing variable-rate applications of nitrogen, lime, and even seed by management zones. But an accurate yield map is critical," he says.
Kneubuhler, who has used various software over the years, now relies on SMS Advanced software from Ag Leader. Its data layering and management zone capabilities, along with its smooth data transfer between the SMS Mobile software on a handheld computer.
"I'm a daily SMS Advanced user, and I have yet to find a software that is better. If there was one, I'd be using it. I can manage all clients zones, all research trials, and easily sync data to SMS Mobile so I can use it to walk corn fields to exact locations for stalk nitrate tests or to check on potential issues that show up on aerial imagery," he says.
These valuable information tools help Kneubuhler take all the geo-referenced data his clients collect, which he layers into his 'sandwich.' "As an agronomist, we use this tool to build a sandwich of every type of information we can gather—and that really helps us make very good management decisions today, and down the road."
For more information, visit
SMS Advanced Software http://www.agleader.com/products/sms-advanced/
SMS Mobile http://www.agleader.com/products/sms-mobile/
Ag Leader Precision Point blog – "Scouting the Crop" http://www.agleader.com/2010/05/25/scouting-the-crop/
G&K Concepts http://gkconcepts.com/Contact-Us.html
Nester Ag http://www.nesterag.com/
Certified Crop Advisors https://www.certifiedcropadviser.org/