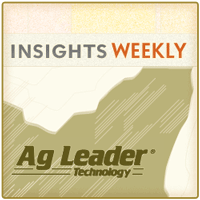 As corn continues to grow across the Midwest, areas of heavy rain in portions of states may cause more problems than just pond replanting. Loss of applied Nitrogen can cause valuable yield loss.
I spoke with Cory De Jong, Certified Crop Advisor and GIS/Agronomy Sales at Sully Cooperative Exchange in Sully, Ia. today. They tested the Ag Leader OptRx crop sensor system last year during all the heavy rains. "We strictly used the sensors on a sprayer for mapping purposes, as we weren't set up yet to apply nitrogen. And we saw a lot of (plant health) variability in fields, covering several thousand acres that we mapped," he says.
"Last year, sidedressing N definitely paid due to all the spring rain we had here in central Iowa. On average, growers gained at least 15 bushels an acre by sidedressing. And if they applied variable-rate, they could have gained 30 bushels," De Jong says. "We saw 50 bushel per acre differences within fields with the OptRx. So this year we've got a bar ready to custom apply with OptRx to apply sidedress N. And we have a bar with OptRx that customers can rent, too."
De Jong says there is a lot of hog and chicken manure used by customers in his territory, and they are interested in this sensor technology. "For example, one grower who has a lot of hog buildings wanted to know how much N he was getting from his manure. We used the sensors to shoot the plant leaves and saved him input dollars. And in some areas the N gets reallocated to areas of the field where N is needed most," he adds.
He feels this sensor technology will gain more and more users, once growers see the benefits of variable-rate application. "As interest picks up, we'll add sensors to a sprayer that will just be dedicated to sidedressing. We may be losing some N business due to manure, but we're gaining business by helping customers apply N only where the sensors detect it is needed—as well as how much the plants need."
For more information, visit
OptRx Crop Sensor http://www.agleader.com/products/directcommand/optrx/
Ag Leader Products http://www.agleader.com/products/
Sully Cooperative Exchange – Agronomy Dept. http://www.scecoop.com/index.cfm?show=10&mid=7
Certified Crop Advisors https://www.certifiedcropadviser.org/