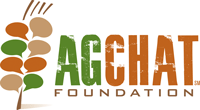 I don't know how many of our Precision.AgWired.com readers are aware of AgChat or have participated but perhaps it's time you check it out. AgChat is a weekly Twitter conversation from 8-10pm eastern. All you have to do is follow the Twitter hashtag, #AgChat, and feel free to join in. AgChat is nearing its one year anniversary and it has helped energize and inspire many farmers to engage online to agvocate for their industry using social networking tools like Twitter and Facebook. If you're using precision technology then you'll find using social networking tools very easy to adopt.
Last week the AgChat Foundation was announced. This farmer led group "is designed to empower more farmers to leverage social media as a tool to tell agriculture's story. The Foundation will educate and equip farmers and ranchers with the skill set needed to effectively engage on Twitter, Facebook, blogs, YouTube, Linkedin and other social media services. It will give them knowledge to unlock new tools to effectively tell their story. Research shows that social media is a growing opportunity for farmers to have a stronger voice in educating people about the business of growing food, fuel, feed and fiber." You can find more information on the AgChat Foundation website.
Let's meet board member Mike Haley. Mike is a fifth generation grain and cattle farmer in northern Ohio. Mike believes not only in raising healthy crops and animals, but also working to ensure that future generations will be able to continue to do the same. This not only means that Mike must continuously work to ensure that his farm is operating in a sustainable way, but also that others understand what farmers are doing on a daily basis to ensure that they are acting in a socially acceptable manner. "Social media is a valuable tool that allows us to communicate with others across the country about our farming operation while we are working on daily tasks." In my interview with Mike we talk about farmer use of social media and what we hope to accomplish with the AgChat Foundation.
You can listen to my interview with Mike here.