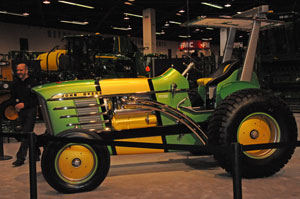 I am attending Commodity Classic courtesy of John Deere. This is the combined meetings of the National Corn Growers Association, American Soybean Association, National Association of Wheat Growers and National Sorghum Producers.
John Deere took the opportunity to unveil a very unique tractor designed by Chip Foose. It's a 1970 John Deere 4020. The tractor will be given away to one winner as part of the John Deere Big Buck Promotion. You may find rules to enter on the John Deere website.

The uniquely designed machine, which the Foose team has been working on since last November, will tour much of the country as part of the Drive Green Tractor Experience Tour immediately following the trade show.
The John Deere 4020 was one of the first six-cylinder tractors available to farmers in the 1960s and helped revolutionize farming in the 1960s and '70s, allowing operators to cover more acres and be more productive. There were more than 170,000 of these classic John Deere tractors – called the New Generation of Power – manufactured in Waterloo, Iowa, between 1963 and 1972.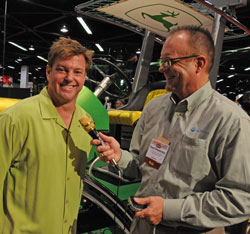 Steve Geick, tactical marketing manager for John Deere, says the John Deere 4020 is one of the most widely used and recognized tractor models ever produced, which made it the perfect tractor for this project. "We wanted a well-known and creative auto designer to work on a John Deere classic and then share this customized tractor with people across the country," Geick explains. "We couldn't be more proud to have Chip and his team take our most popular tractor and create something unique and exciting with it."
Chip Foose adds, "I've looked at tractors for years and always thought they're narrow, they look almost like a dry lakes car or even some of the old Indy cars, so that's the direction I took; I wanted some of that racing feel to the tractor. And with the turf tires in the back and the three-ribbed tires in the front, it carries that theme all the way through from the tires to the sheet metal work to the paint job … but it's still a John Deere."

I interviewed Chip right after the unveiling. He talks about how he got into automobile design and this project in particular. You can listen to that interview below. I also shot the unveiling so you can watch it as well.