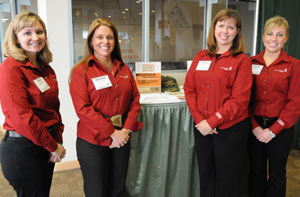 There are booths on the floor of three different buildings at the Iowa Power Farming Show. They're also in the hallways. I stopped at this one to learn about the Monsanto sponsored America's Farmers Grow Communities Project. Lots of farmers were stopping by to sign up their favorite local charity. To tell us all about it I interviewed Gayla Daugherty, Monsanto Communications Manager.
She says it's a new project for farmers to sign up a local non-profit of their choice to win via a random drawing. There are 179 counties involved in Iowa/Missouri/Arkansas and you can see them listed on the official rules page.

Plant $2,500 in your community and watch it grow.
As a farmer, you care for our land and grow our economy. You make everyone's lives better – locally, nationally and globally. To thank you, Monsanto wants to make a contribution in your name to your local community with the America's Farmers Grow Communities™ Project.
One nonprofit community organization in each eligible county will receive a $2,500 award. It's up to farmers like you to help decide where it goes.
Together we can grow rural America…one community at a time. Apply now.

You can listen to my interview with Gayla below.
Iowa Power Farming Show Photo Album
Thanks to Ag Leader Technology for sponsoring our coverage of the Iowa Power Farming Show.