This story was prepared by ZimmComm reporter, Joanna Schroeder.
During the AG CONNECT Expo last week, I spoke with Nathan Faleide, sales and marketing for Satshot. The company offers a GIS online system for the agricultural industry that handles and manages satellite imagery and other data for use in variable rate technology with a fertilization, seed and chemical all-in-one online mapping system. The system can be managed from anywhere in the world with online access.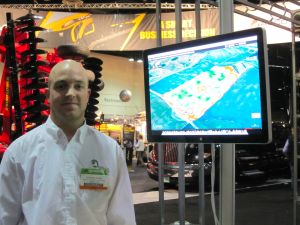 I asked Faleide what types of information a grower who uses this precision ag technology would see and he explained, "What the imagery works out is the vegetative biomass or the vegetative reflectiveness of the plant which correlates to yield and productivity in the field."
This imagery, said Faleide, shows the higher points of the growth yield potential or lower points that don't yield as much. Ultimately, this is an advantage because farmers can focus on areas with higher yield potential and put less inputs on areas with lower yield potential, increasing the productivity and profit of the grower.
The company also provides a worldwide elevation model and when combined with their other technology can, "really pinpoint the best areas in the field to maximize efficiency," said Faleide.
Listen to my interview with Nathan here.