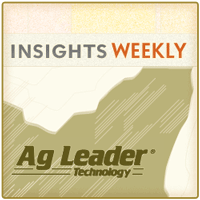 To give you a better understanding of the CORS (Continuously Operating Reference Stations) Network, Bill Cran, GPS & Guidance Product Specialist at Ag Leader Technology, answered our questions about its use in precision agriculture.
1. Why should a grower consider the CORS network and technology?
• CORS is a service provided by some states, and in most cases is provided free or at a very low cost.
• CORS allows a user to have access to an RTK level correction almost anywhere in the state's network as long as they have cellular access
• Rapidly becoming accepted at the end user level.
• Companies are adopting this new technology and producing hardware that will take advantage of it.
• Allows growers to have an RTK signal over a larger distance—to cover farms that may be spread out over 20+ miles. A traditional RTK base station would not cover this large of an area without moving the base station or using repeaters.
2. How does it work and what are the pros and cons of this technology?
• CORS is a network of base stations, strategically located throughout participating states. Position information is fed back to a central server where it is broadcast over the internet to anyone with a login.
• A user can create an account with the state and using an internet-enabled device, begin streaming the data to their RTK capable GPS receiver.
• Pro: CORS provides statewide RTK coverage.
• Pro: This service (from the state) is usually free or at a very low yearly cost. Iowa, for example, provides this service free of charge.
• Pro: More states are recognizing this technology and have plans to add a network if one is not already in place.
• Pro: In Iowa, base stations are Glonass capable, which provides better satellite coverage during times of the day when the US GPS satellites may not be enough (5 are required for an RTK fix). The rover receiver would also need to be capable of Glonass to take advantage of this.
• Con: Signal reception is dependant on cellular coverage and limited by the cellular data plan.
• Con: Since the signal is controlled by the state, there is always risk of outages that may not be fixed until the next business day. This is not very common, but it can happen.
3. How can a cell phone signal truly deliver RTK-correction accuracy? Or can I get any level of accuracy? And do I need another cell phone and use package?
• A cell phone with a data plan can use an application to configure the login information and begin streaming data.
• Most Smartphone's are capable of doing this, but the user should check with their provider.
• Using the CORS technology, you can only stream RTK level accuracy at this point.
• Most users will have a dedicated cell phone or air card that will be used to stream data.
• In general, voice calls take priority over data, so if you are using a personal cell phone to also stream data, you run the risk of drops and disconnects when you receive a voice call.
4. Do I still need to keep my current GPS-corrected signal? What happens if the CORS signal gets dropped?
• If you are using OmniSTAR as your differential signal, you can upgrade a capable receiver to RTK level and use it with the CORS network.
• The receiver must be RTK capable in order to be used with a CORS network.
• The user should not have to keep the OmniSTAR subscription as a backup
• With the Ag Leader ParaDyme, if signal is dropped briefly, the system will continue to steer the vehicle and provide GPS until the connection is regained.
• ParaDyme also uses a "flex" technology that will drop back to the next most accurate differential signal until the CORS connection is regained. This allows the system to keep steering, without affecting accuracy. Since this transition happens gradually, the user does not see any position jumps in the field or with their steering system.
• ParaDyme will automatically try to reconnect if a signal drop is detected.
5. What does Ag Leader offer for hardware to use the CORS network and what are all the costs associated with using a CORS signal?
• Ag Leader offers the new ParaDyme roof array that uses a built-in cellular modem to connect to the CORS network and stream RTK data.
• This allows the user seamless access to the CORS signal with one piece of hardware, no additional cell phones, laptops or any other extra hardware in the cab.
• The ParaDyme user interface allows the user to configure the login information and select which of the CORS network data streams they want to use.
• The ParaDyme uses a CDMA (Code Division Multiple Access) modem that will allow the system to access any CDMA cellular tower (both Verizon and US Cellular use CDMA)
• Using the CDMA modem allows access to more cellular towers and better cellular coverage. CDMA is a digital signal, and it has been around since the early 90's and is up to 15 times faster than analog technology
• Ag Leader offers a monthly access plan for $300/month. This provides a truly unlimited data plan with no worry of going over your monthly limit and incurring additional charges. It also allows the user to go month-to-month as their situation allows. Not everyone is probably going to use the network 365 days a year.
• Ag Leader also offers discounted 3 and 10 month plans at $750 and $1500 respectively. This gives the user more flexibility to get the work done within their timeframe.
6. How do I get started with setting up a CORS signal?
• First, contact the DOT in your state and see if they have a CORS network or are planning one. Here is an example map of Ohio.
• Second, get access to the network by creating an account. Most states with CORS networks allow you to do all this online. Check your states DOT website for more information.
• Third, configure your hardware, like ParaDyme, using the account information you get from your state DOT. An Ag Leader Dealer will be able to help with any setup questions.
• Finally, connect to the network and enjoy RTK level accuracy without being tied to the traditional base stations distance limits.
• Traditional 900 MHz base stations generally have a limit of 6 miles, line of site. A CORS network generally does not have limits on distance because there are base stations installed and covering the whole state.