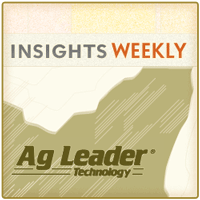 Big news this week in the world of precision agriculture. Ag Leader Technology not only launched new products, it announced a new alliance with AutoFarm.
This new collaboration brings together popular and successful precision farming products from Ag Leader with the latest embedded and integrated steering solutions from AutoFarm.
Yesterday, I caught up with company founder and President Al Myers to learn more about this partnership, and the continued innovation of products coming from Ag Leader…and from the combined collaboration strength with AutoFarm.
"Ag Leader has built its success over the years by being very innovative with leading-edge products that continue to make growers more efficient, productive and profitable," Myers says. "By joining forces with AutoFarm, we see this as a win-win for the industry, and more importantly for our combined customers. Each company brings specific strengths, which will allow us to develop better product solutions quicker, to benefit the farmer."
Herb Satterlee, CEO, Novariant-AutoFarm is also excited about this collaboration. "Ag Leader has a great reputation for innovative, high-quality precision agriculture hardware and software. We are known for our high-accuracy steering systems. Between our two companies, we plan to leverage our strengths and experience to offer the world's most advanced and complete precision farming solutions to our dealers and customers."
Here is a quick glimpse into the new products. More to come next week.
New Products.

1. New INTEGRA Display – This 12-inch, high-definition color touch-screen display is Ag Leader's most complete, fourth generation system that combines year-around guidance, steering and operation controls. It's touted as the ideal investment because it can handle the most basic manual lightbar tasks, to the most sophisticated variable-rate control tasks.
2. ParaDyme Advanced Automated Steering – This full-featured steering system, developed by AutoFarm, uses a dual-antenna roof module to track roll, pitch and yaw to deliver repeatable sub-inch accuracy. ParaDyme supports WAAS, OmniSTAR HP/XP and RTK differential correction signals for over 350 vehicle platforms.
3. OptRx Crop Sensor – Working with Holland Scientific, Ag Leader launches their on-to-go optical nitrogen sensor that works with their display to map and apply variable amounts to avoid excessive rates.
In addition to the recently released INTEGRA display and ParaDyme steering system, the two companies plan to collaborate on future projects.
"We're definitely excited about the possibilities of future projects with the strength this cooperation brings," Myers says.
Satterlee concurs, "This is the beginning of a new era in precision agriculture that will bring our end user customers more ways to reduce input costs, increase efficiency, improve their decision making and increase farm profitability."
Stay tuned for more new product details next week.