A new tool to measure sustainability shows how precision technology and practices have helped improve the efficiency of U.S. farmers.
The Fieldprint Calculator was introduced last week at the Commodity Classic by Field to Market, The Keystone Alliance for Sustainable Agriculture.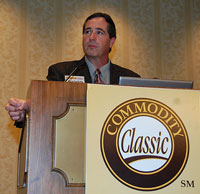 "I do have to say that I like this tool for many reasons," said Doug Goehring, who grows corn, soybeans and wheat in North Dakota. "First and foremost, it demonstrates how U.S. ag production measures up when it comes to sustainability. In some respects, we're probably at the top of the game globally."
"It's amazing," Goehring says. "Just looking at technology – we have variable rate seeding, variable rate fertilizer application, variable rate chemical application, we have GPS, new tools and equipment being designed that are much more efficient in the field."
"When you look at our industry overall in the United States, for what we produce and the amount of energy that we consume to do that, we are very responsible," said Goehring.
The Fieldprint Calculator was developed with input from a diverse group of grower organizations, agribusinesses, food companies, economists and conservation groups, to help farmers evaluate natural resource use on their operation compared to industry averages. These measures could help improve production efficiencies and profit potential.

The calculator will be available at www.fieldtomarket.org beginning March 15 for grower testing and feedback.
Listen to Doug's comments at Commodity Classic here: [audio:http://zimmcomm.biz/commodity-classic/cc09-goehring.mp3]