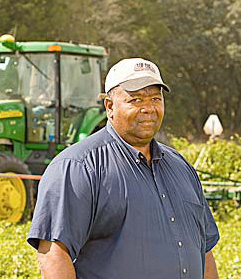 USDA's Natural Resources Conservation Service rolled out a new campaign this week called Conservation, Our Purpose – Our Passion.
The campaign kick-off Tuesday at the National Association of Conservation Districts' annual conference in Reno included a video highlighting eight farming operations for their conservation commitment
One of those was the Gwinn Brothers operation in Suwanee county, Florida. Donell (pictured) and his brother Robert have been farming together for over 25 years, producing watermelons, peanuts, iron clay peas, bahia grass seed, hay, and beef cattle.
According to their information on the NRCS website, "the Gwinn Brothers recently embraced and implemented the new technology of precision agriculture on their farm to take their farm management to a new level."
The Gwinn brothers installed GPS systems in several of their tractors. The GPS systems are used for precision planting, precision nutrient application, and precision pesticide application. This addition has helped the Gwinn Brothers save thousands of dollars in fertilizer and pesticide costs, while adding tremendous environmental benefits, especially to water quality. The Gwinn Brothers now have peace of mind that they are doing the very best job possible with their nutrient and pest management, here again, all in an effort to improve soil and water quality.