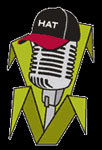 Use of precision agriculture technology is revolutionizing the farm equipment business. Gary Truitt with Hoosier Ag Today radio network in Indiana sent in this report with a southwest Indiana tractor dealer who talks about how precision ag has changed the way they do business in a very positive way.
According to Rich Linenburg of Vincennes Tractor, AutoTrac and GPS systems have changed the way growers use tractors and changed the way dealers support and service those machines. "Now the tractor has BlueTooth capabilities, it hooks up to our laptop, the laptop hits the cell phone connection, we're on the internet, my service manager can see and diagnose that machine from his desktop and if he needs help the engineer in Waterloo Iowa where the tractor was built has the same screen in front of him. The technology is just unreal."

HAT report (2:30 mp3)

On the Vincennes Tractor website, they are encouraging farmers to form a Precision Farmer User Group.
Some farmers just like yourself have formed a user group for these products. We want this to be your group, a group that will add value to your farming operations. We will be glad to help facilitate your meetings, if you want. We can provide the meeting place, help arrange speakers, presentations, office services, training, and just about anything your group would like us to bring to the table.
Great idea!