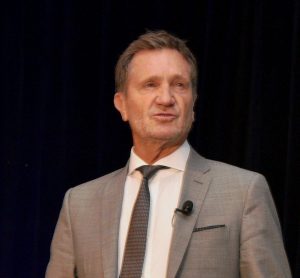 The Board of Directors for FMC Corporation has elected Mark Douglas as president and chief executive officer of FMC, effective June 1, 2020, replacing Pierre Brondeau who will continue to serve as chairman and CEO through May 31, 2020, at which time he will become executive chairman and remain a member of the Board of Directors.
"Mark has been elected following the Board's careful and thorough assessment of the experience, track record and leadership qualities needed to lead FMC," said Brondeau. "He has been a trusted partner during a period of significant change. During the last decade, Mark has been engaged on every major decision and strategic action we pursued to transform FMC into a high growth agricultural sciences company. His more than 30 years of global business and operational experience in the chemical industry, including most of the last 10 years leading FMC's agricultural business, makes him ideally suited as our next CEO," Brondeau added.
Douglas is now FMC president and CEO-elect, and he will work with Brondeau and the Board during the next five months on an orderly transition.
Brondeau presented the keynote address at the recent 2019 Ag Retailers Association Annual Conference and Expo in New Orleans. Listen to an interview with him from there.
ARA19 Interview with FMC CEO Pierre Brondeau (3:34)