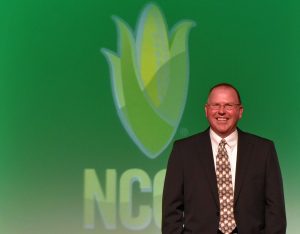 David Hula of Charles City, Virginia has once again broken his own record in the National Corn Growers Association 2019 National Corn Yield Contest and set the bar pretty high for the future.
Hula produced the highest yield on record at 616.1953 bushels per acre, beating his previous record of 542-plus bushels in 2017, which broke his 2015 record of 532 bushels per acre. Hula set his record this year in the Strip, Min, Mulch, Ridge-Till Irrigated category.
The 27 winners in 9 production categories had verified yields averaging more than 383 bushels per acre, compared to the projected national average of 167 bushels per acre in 2019. While there is no overall contest winner, yields from first, second and third place farmers overall production categories topped out at 616.1953 bushels per acre.
Despite adverse growing conditions that impacted most farmers, improved seed varieties, advanced production techniques and innovative growing practices, allowed corn growers to achieve many impressive yields across all categories again this year. Heath Cutrell of Chesapeake, VA came in first for the Conventional Non-Irrigated category this year with over 381 bushels per acre, beating out his 2018 win in the same category of almost 361. See a list of all the winners.
The National Corn Yield Contest is now in its 55th year. The winners will be honored during Commodity Classic 2020 in San Antonio, Texas.