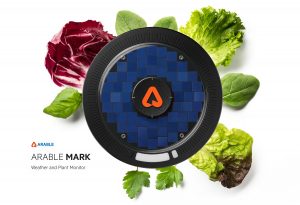 Arable Labs and xarvio

Digital Farming Solutions are partnering to provide weather and plant insights to farmers across Europe
The resulting integration of Arable's unique dataset with xarvio FIELD MANAGER allows for optimized crop production decisions. BASF's digital platform is built on decades of experience in crop production and protection, with Arable's hyper-local crop and weather data it enables more precise in-field decisions.
Arable developed an innovative method that accurately measures precipitation using sound. Arable's Mark device delivers unique value by employing an acoustic disdrometer, eliminating the complex maintenance requirements of the traditional tipping bucket. The multi-spectral sensing capabilities of the Mark bring real-time insight into how plants are responding to observed field conditions. Housed in a durable casing reinforced with nanotechnology protection, Arable supports the latest generation of wireless internet connection, LTE-M. Fit-for-the-farm tech combines weather measurements, plant health parameters and over 40 additional in-field measurements to create a first-of-its-kind solution integrated into xarvio FIELD MANAGER.
The Arable Mark is now available online and will be integrated into xarvio FIELD MANAGER for the 2020 growing season. Geographic rollout is based on LTE-M availability with the initial countries being France, Germany, Great Britain, Poland and Ukraine.
Arable Labs promoted the news at the ASTA CSS and Seed Expo last week in Chicago and we sat down with VP of Strategic Partnerships Jess Bollinger to find out more about the partnership.
ASTACSS19 Interview with Jess Bollinger, Arable (3:36)