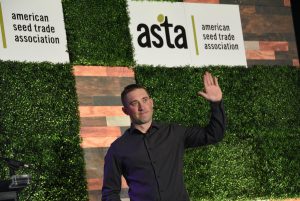 Recent Iowa State University PhD graduate Kevin Falk was honored as the grand prize winner of the Better Seed, Better Life Student Video Contest for the second year in row during the Opening General Session of ASTA's CSS & Seed Expo 2019 in Chicago.
Falk's PhD work focuses around harnessing technology to develop high throughput phenotyping platforms and machine learning approaches to advance plant breeding and he is very interested in science, agriculture and using media to connect and communicate with the public. He recently accepted a position with Corteva Agriscience as an Integrated Field Sciences Research Scientist.
The Better Seed, Better Life Student Video Contest is a collaboration between the American Seed Trade Association (ASTA), National Association of Plant Breeders (NAPB) and the American Society of Agronomy, Crop Science Society of American and Soil Science Society of America (Tri-Societies). Open to both graduate and undergraduate university students, this year's contest focused on the theme, "Our Planet, Our Health, Our Food – it all starts with the Seed."
Second place went to Matthew Wilson, University of Missouri; and third place went to Hannah Van Eendenburg, University of Colorado Boulder.
Listen to an interview with Kevin here and watch his award winning video below:
ASTACSS19 Interview with video contest winner Kevin Falk