It's time to change the conversation from weed control to on-farm eradication, according to a new strategy announced this week by BASF Agricultural Solutions.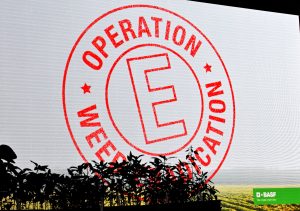 BASF launched Operation Weed Eradication, which calls on growers and partners to take action against troublesome weeds in their fields, through cultural practices, chemical control and enhanced diligence.
"Our approach to on-farm eradication will uproot problem weeds and help secure a sustainable farming future that builds a successful legacy for seasons and generations to come," said Scott Kay, Vice President U.S. Crop, BASF Agricultural Solutions. "Weed eradication will be a personalized, tailored journey for each grower with different start and end points. BASF will support growers with expertise and continuous innovation to support this journey."
Operation Weed Eradication takes a balanced approach of utilizing cultural practices such as conventional tillage, chemical control such as rotating chemistries, and eradication diligence such as hand weeding to help growers eradicating troublesome on-farm weeds.
In the coming months, BASF will assemble a coalition of industry leaders, develop a specific eradication customer offering and launch an educational initiative to support its efforts with Operation Weed Eradication.
In this interview, Kay explains why they are taking this approach and how they plan to implement it.
[wpaudio url="http://traffic.libsyn.com/zimmcomm/basf-global-19-kay.mp3″ text="Interview with Scott Kay, BASF Vice President U.S. Crop"]
Find more photos of Scott Kay and other BASF execs from the Agricultural Solutions Media Event this week in Research Triangle Park, NC in this photo album.
BASF Ag Solutions Media Event photos