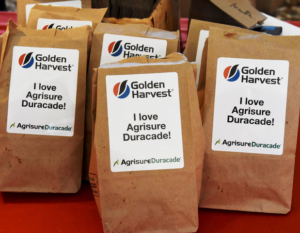 With full approval of its Agrisure Duracade trait, Syngenta continues to expand the number of choices available to its farmer customers. That's going to be important for the 2020 growing season, according to Dave Young, head of marketing for the Golden Harvest brand.
"It's going to be an awful tough economic environment. We all know that and understand it in the seed business," said Young. "As you're making your cropping plans for next year, make sure you're taking a look at what you really need out there. Don't under trait yourself in the interest of just trying to save some money. Make sure you're truly giving yourself the protection, as well as the top end yield potential that you really need."
Young encouraged farmers to reach out to a Golden Harvest seed advisor for help with decisions about the 2020 growing season.
Listen to Chuck's interview with Dave here: Interview with Dave Young, Golden Harvest