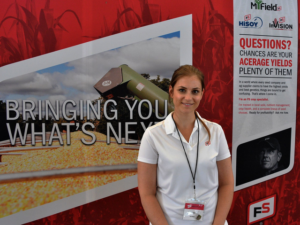 GROWMARK's AgValidity platform is allowing the company to work with new companies offering innovative technologies in order to test out products and services that could be beneficial to their member companies.
"The number one thing that we hear farmers talk about and that we're talking with our crop specialists about is that 'one click to value.' There are a lot of really exciting new technologies out there right now, but figuring out which ones are real, which ones are providing the best value, and then doing it quickly and efficiently so the grower just has to see he's got a problem and a couple of clicks later has already solved it," said Katie Hansen, GROWMARK Agronomy Project Manager.
Hansen said the new MyField 365 app is an example of a technology product where GROWMARK worked with other companies to bring different layers of data together for the benefit of growers. Hansen shared the cooperative's findings with visitors to the 2019 Farm Progress Show in Decatur, Ill.
Listen to Chuck's interview with Katie here: Interview with Katie Hansen, GROWMARK