Agricultural organizations are celebrating the official repeal of a rule that they have been fighting since 2015 – Waters of the United States, better known as WOTUS.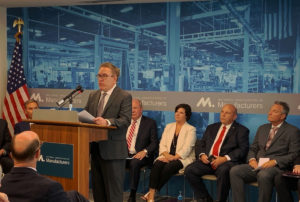 Environmental Protection Agency (EPA) Administrator Andrew Wheeler and Department of the Army Assistant Secretary of the Army for Civil Works R.D. James announced that the agencies are repealing the rule and "recodifying the longstanding and familiar regulatory text that existed prior to the 2015 Rule—ending a regulatory patchwork that required implementing two competing Clean Water Act regulations, which has created regulatory uncertainty across the United States."
"Today's Step 1 action fulfills a key promise of President Trump and sets the stage for Step 2 – a new WOTUS definition that will provide greater regulatory certainty for farmers, landowners, home builders, and developers nationwide," said Administrator Wheeler.
Listen to Wheeler's announcement:
EPA Administrator announces WOTUS repeal
Happy to be on hand for the announcement was American Farm Bureau Federation President Zippy Duvall who said the WOTUS issue and AFBF's "Ditch the Rule" campaign generated more interest among member than any ever before.
Listen to Duvall's comments:
AFBF president Zippy Duvall comments on WOTUS repeal