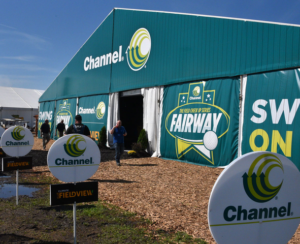 As farmers anticipate harvest and begin to plan for next year, a trusted support system could be vital to future success.
"The difficult part about planning for 2020 is going to be understanding what is usable information in 2019 and what is not," said Brock Helgerson, Channel Brand Marketing Lead. "I think having a trusted partner like a Channel Seedsman going into 2020 planting is going to be a key element of that, because you're going to need somebody that saw a lot of crops, is very familiar with our products, how they should be placed. Going into 2020 it's going to be key to have a partner like that."
Helgerson spoke to visitors to the Bayer exhibit at the 2019 Farm Progress Show, where he shared a message about the support available from a Channel Seedsman throughout the entire growing season from product purchase to delivery to scouting to developing a harvest plan.
He said Channel continues to move new products through the research and development process, like the recently introduced Channel Protexus corn products, offering high tolerance to four diseases that are prevalent across the Corn Belt every year.
Listen to Chuck's interview with Brock here: Interview with Brock Helgerson, Bayer