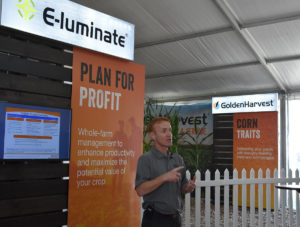 Golden Harvest announced a collaboration with John Deere on its E-Luminate digital platform at the 2019 Farm Progress Show.
"If I'm a grower and my data is already stored to the John Deere cloud, we have a way for that grower then to share information with us within E-Luminate, in order for us to work together to make better decisions for that grower," said Justin Welch, Syngenta Digital Commercial Lead for U.S. Seed Business. "We believe by having that grower have his information available to more trusted advisors, they're going to have a better opportunity to have a higher return on their investment."
Welch said the E-Luminate service is already very customer focused, delivered through one of 1,200 Golden Harvest seed advisors who use an eight-step process to connect with growers throughout the year.
Listen to the interview here or watch it below: Interview with Justin Welch, Syngenta