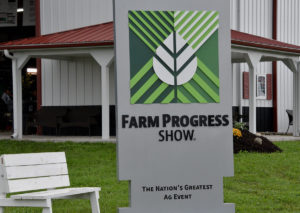 Day two of the 2019 Farm Progress Show is underway with plenty of sunshine and a full line up of events, including a visit from Agriculture Secretary Sonny Perdue.
Show Manager Matt Jungmann said late planting for many farmers this year means they are not yet in the field and as a result the crowds are turning out for the event.
"It appears that the optimism of the American farmer means that we're going to have a great year in 2020 and we're going to make plans, so we're going to go to the Farm Progress Show, start the planning process, take step one to put 2019 behind us, and go to work," said Jungmann, who is National Events Director for Farm Progress.
Jungmann said visitors to the show are enjoying perfect weather after rains came through during set up for the event. New exhibits this year include an area focused on hemp production and the demonstration of a mock pipeline strike with a tiling machine.
Listen to Chuck's interview with Matt here: Interview with Matt Jungmann, Farm Progress