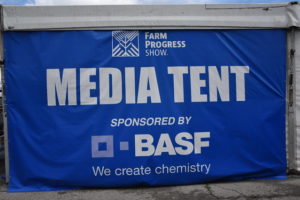 Media covering the 2019 Farm Progress Show have a place to escape the outside elements, thanks again this year to a BASF-sponsored media tent. In addition to providing wifi connectivity and meals for working media, BASF works hard to line up helpful content, as well.
"We put some time and effort into having great content and great topics and great spokespeople that the media can come and talk to, and we've got them prepped and ready to go," said Casey Allen, External Communications Manager, BASF Agricultural Solutions. "We always value the chances that we have to work closely with our media and want to provide good content, good opportunities to provide to their listeners and their readers and their viewers, as well."
The media tent also offers a venue for press conferences and panel discussions on relevant topics like weed control.
Listen to Chuck's interview with Casey here: Interview with Casey Allen, BASF