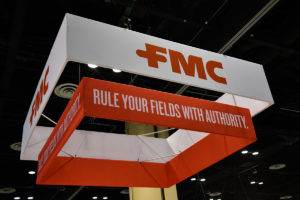 FMC is recommending growers aim for a zero tolerance policy when it comes to weeds, according to Brandon Schrage, technical service manager. Schrage said preventing weed growth in the seedbank is particularly important.
"What we want to see is that fall residual being applied once soil temperatures are 50 degrees and falling. That's going to ensure that our product is going to be there. The microbial activity in the soil is going to be low, so we won't have degradation. It will be present in the spring. And if we have a year like we did in 2019 where it is a very wet spring and guys couldn't necessarily get out and apply a pre-emergence product when they wanted to, that product is going to be there to help them get to that post application time."
Schrage said weeds like Palmer amaranth often emerge late in the season. Products like Authority MTZ have the flexibility to be applied in fall or spring to help growers best manage weed challenges. Schrage said it will depend on geography, the environment, and whether a cover crop is present, but the goal is immediate weed control during and after harvest.
Listen to Chuck's interview with Brandon here: Interview with Brandon Schrage, FMC, on fall residual herbicide programs