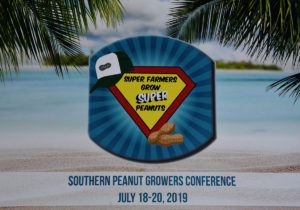 "Super Farmers Grow Super Peanuts" is the theme for the 21st Annual Southern Peanut Growers Conference (SPGC) in Panama City Beach, Florida this week. The three-day event provides farmers with information about peanut production, legislative issues, marketing and promotions.
The event includes the Alabama Peanut Producers Association, the Florida Peanut Producers Association, the Mississippi Peanut Growers Association and the Georgia Peanut Commission. We talked with the executive directors of all four organizations to get an update on the peanut crop this year and what issues growers are watching.
Get all of the news from this annual event on the SPGC blog – now in its 12th year!
2019 SPGC Interview with Jacob Davis, Alabama Peanut Producers Association
2019 SPGC Interview with Ken Barton, Florida Peanut Producers Association
2019 SPGC Interview with Don Koehler, Georgia Peanut Commission
2019 SPGC Interview with Malcolm Broome, Mississippi Peanut Growers Association