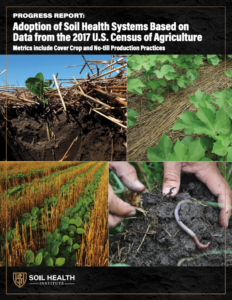 Based on data from the 2017 U.S. Census of Agriculture, the Soil Health Institute (SHI) has released PROGRESS REPORT: Adoption of Soil Health Systems.

The analysis includes a state-by-state breakdown of changes in adoption from 2012 to 2017 for cover crops and no-till production. Cover crop and no-till practices both support biological activity in the soil. Cover crops are particularly effective at protecting water quality, and no-till is particularly effective at increasing carbon sequestration in soils.
The report was developed by Rob Myers, Ph.D., a University of Missouri agronomist and Co-chair of the Soil Health Institute Policy Action Team, and Joe LaRose, a University of Missouri extension associate.
For further information, visit the Soil Health Institute website.