John Deere has announced a new compact utility tractor line up and a new specialty tractor, along with some updates.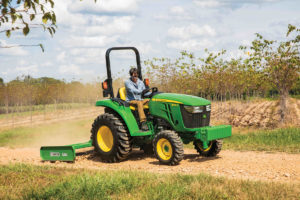 The new John Deere 3D Series compact utility tractors, including the 3025D, 3035D and 3043D models, offer a powerful, affordable and easy to use solution for a wide range of jobs. Equipped with a gear-drive transmission and available in three horsepower offerings, the 3D Series tractors are designed to tackle everything from pulling and hauling to cutting and tilling.
"Our customers need rugged, tough machines that can tackle a variety of jobs, just like they do. Whether they own large acreage and want a simple, reliable machine for a variety of jobs, or grow crops, like fruits and nuts, and need a durable support tractor, the versatile 3D Series provides a great solution," said DeMark Cole, product marketing manager, John Deere. "Customers are demanding a gear-drive transmission in the compact utility tractor market, and our 3D tractors provide just that – a simple, dependable, affordable gear-drive machine."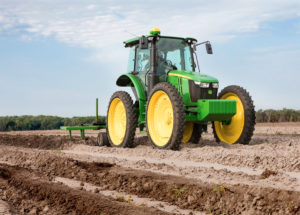 In addition, John Deere has added a new tractor to its specialty lineup – the premium high-crop 5115RH – and made ergonomic updates to its model year 2020 5GN and 5GV tractors. John Deere offers a new 5GV cab option for 5GN tractors, and a new optional front hitch for 5GNs.
The new 5115RH with base 230/95 R40 tires provides 26.9 inches (68.3 cm) of crop clearance to the drawbar and 28.6 inches (72.6 cm) of clearance to the center of the axle. Optional factory-installed integrated guidance, documentation and telematics, minimizes crop damage in fields where bedded crops like vegetables are planted.