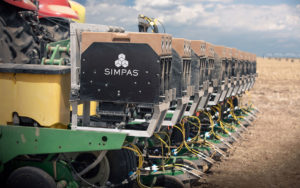 An upcoming episode of Advancements with Ted Danson will highlight recent advances in agriculture, including AMVAC's unique SIMPAS® (Smart Integrated Multiproduct Prescription Application System) technology. Viewers will learn about the ISO-based tool, which allows farmers to automate and variably apply multiple inputs across a field.
"SIMPAS fulfills our dream at AMVAC of being able to apply crop inputs to a field in a manner that's consistent with the way an inkjet printer works. Farmers install SmartCartridge

product containers into their SIMPAS equipment and prescription software controls where each product is applied," said Eric Wintemute, CEO of AMVAC. "SIMPAS applies only what's prescribed precisely where it's needed, enhancing crop yields while avoiding the expense and environmental loading that have long been associated with treating entire fields to control only the 'localized problems' that aren't uniformly present throughout the field. We think this technology will be game-changing and a big win for farmers and society in general."
The segment will also show how the SIMPAS software controls the application rate of each product through a patented system, so that farmers can apply prescriptively, exactly where needed. SmartCartridge containers eliminate the need for pouring and mixing crop protection and nutritional products, so worker productivity and safety are improved. Patented SIMPAS software enables agronomist-generated prescriptions to be easily uploaded to automatically create an immutable time-stamped record of product placement; a key element of food-chain traceability.
We got an explanation of the SIMPAS system at the 2018 Farm Progress Show from Simplot Regional SmartFarm Manager Caleb Schultz.
Audio – Caleb Schultz, Simplot, explains AMVAC SIMPAS system