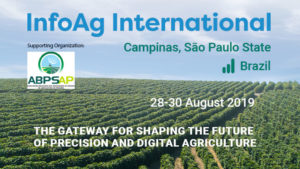 New Ag International is looking forward to taking two concurrent conferences to Brazil in August 2019.
InfoAg International Conference & Exhibition, a three-day event jointly organised with the International Plant Nutrition Institute (IPNI), will run in Campinas, São Paulo State, Brazil from 28-30 August 2019. These are new dates.
This event will run concurrently with the largest biocontrol event in Latin America. After the successful Biocontrol LATAM 2016 in Brazil and 2018 in Colombia, the industry is gathering back in Brazil. New Ag International will be taking its Biocontrol LATAM Conference and Exhibition to Campinas Wed 28 – Fri 30 August.
The deadline for the Early Bird Rate ends this Friday June 14, so please register online now to save.