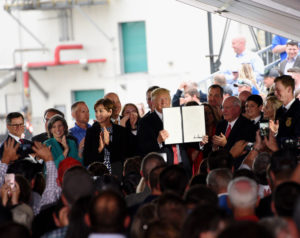 During his visit to an Iowa ethanol plant yesterday, President Donald J. Trump signed an Executive Order to Modernize the Regulatory Framework for Agricultural Biotechnology Products. The order encourages biotechnology innovation, ensures coordination across regulatory agencies, and safely enables billions of people across the world to reap the benefits of American biotechnology crops.
"Throughout our history, farmers have always led the way," said President Trump. "We will never stop fighting for our farmers."
Secretary of Agriculture Sonny Perdue was with the president in Iowa and applauded the new executive order.
"Our current regulatory framework has impeded innovation instead of facilitating it. With this Executive Order, President Trump is once again putting America first and setting us on a course to modernize our regulatory framework so that it works for our farmers, ranchers, and consumers. We need all the tools in the toolbox to meet the challenge of feeding everyone now and into the future – if we do not put these safe biotechnology advances to work here at home, our competitors in other nations will," said Secretary Perdue. "Science-based advances in biotechnology have great promise to enhance rural prosperity and improve the quality of life across America's heartland and around the globe. I applaud President Trump for signing this important Executive Order that will help America's farmers do what we aspire to do at USDA: Do Right and Feed Everyone."