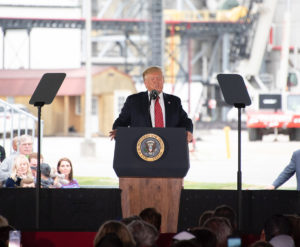 President Donald J. Trump brought a hopeful message to farmers in the Midwest on Tuesday with an appearance at Southwest Iowa Renewable Energy ethanol plant to celebrate year round sales of E15.
Sen. Joni Ernst (R-IA) introduced the president, and Trump in turn brought Iowa farmer and National Corn Growers Association (NCGA) first vice president Kevin Ross up to the stage to tell his story. President Trump also gave the microphone to a SIRE plant worker and a regional E15 retailer.
The president touted many administration accomplishments for farmers, including disaster assistance, and talked about the USMCA and China tariffs.
Listen to it all here:
President Donald Trump at SIRE ethanol plant