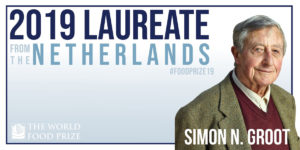 The 2019 World Food Prize Laureate is Simon N. Groot of the Netherlands. Groot has played an important role in enhancing vegetable production for millions of smallholder farmers, affording consumers greater access to healthy diets in more than 60 countries.
The announcement was made at a ceremony in the U.S. Department of State hosted and presided over by Secretary of State Mike Pompeo. Acting Under Secretary for Economic Growth, Energy, and the Environment Manisha Singh gave remarks, and Ambassador Kenneth M. Quinn, president of the World Food Prize Foundation, made Mr. Groot's award public.
"Like Dr. Norman Borlaug before him, Simon N. Groot has dedicated his life to improving the livelihoods of millions around the world," said Amb. Quinn. "With his partner in the Philippines, he began developing vegetable varieties with enhanced disease resistance and significantly higher yields. As the use of his seeds spread throughout the Philippines and to Thailand, Indonesia and across Southeast Asia, farmers' daily lives were uplifted and consumers benefited from greater access to nutritious vegetables. Mr. Groot in effect developed a stunningly impactful global network of seed producers who are transforming the lives of 20 million farmers every year. For this extraordinary accomplishment, he truly deserves to be named the 2019 World Food Prize Laureate."
Mr. Groot is the founder and leader of East-West Seed, which serves over 20 million smallholder farmers in more than 60 tropical countries. Many farmers in these areas were subsistence farmers who now enjoy more income and better lives as a result.
"The awarding of the World Food Prize to a vegetable seedsman is reason for excitement and gratitude," Groot said. "But the ultimate recognition is for the millions of smallholder farmers that stepped up farming from a way of living to building a business. Small scale vegetable farming is a great way to grow rural income and employment and improve nutrition at the same time. Partnering modern science with a long tradition of Dutch seedsmanship has contributed mightily to the growth of the vegetable farming industry of tropical Asia in the last 35 years. Now it is the turn for tropical Africa where again quality vegetable seeds combined with major farmer knowledge transfer programs can create sustainable income for the next generation of African farmers."
Mr. Groot will receive the World Food Prize at a ceremony that will be held in the magnificent Iowa State Capitol building in Des Moines, Iowa, on the evening of October 17, 2019.