On Monday the separation of Corteva, Inc. from DowDuPont became official. The photo below is courtesy of the National Corn Growers Association. NCGA President Lynn Chrisp and other commodity group leaders joined Corteva at the New York Stock Exchange to ring the opening bell Monday.

Corteva, Inc. (NYSE: CTVA) successfully completed its separation from DowDuPont, becoming a leading, global pure-play agriculture company that offers the complete solutions farmers need to maximize yield and profitability. Corteva Agriscience launches today with global scale and a balanced offering across seed and crop protection, underpinned by expanding digital capabilities and powered by the broadest and most productive innovation pipeline in the industry.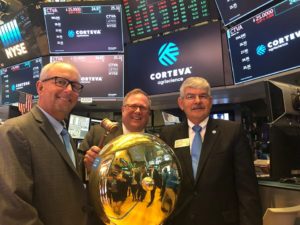 The distribution of Corteva common stock was completed on June 1, with each DowDuPont stockholder of record receiving 1 share of Corteva common stock for every 3 shares of DowDuPont common stock held as of the close of business on May 24, 2019. DowDuPont stockholders will also receive cash in lieu of any fractional Corteva shares. Corteva common stock begins trading today on the New York Stock Exchange (NYSE) under its new ticker symbol "CTVA".
"Today marks the launch of a new kind of agriculture company, well positioned to compete and win by providing farmers the complete solution they need for sustainable, long-term growth and improved profitability," said Jim Collins, Chief Executive Officer of Corteva Agriscience. "As a global leader in the combined $100 billion seed and crop protection market, Corteva Agriscience has the most robust pipeline in the industry, a world-class innovation engine, and advantaged routes to market that provide us with unparalleled customer relationships – all of which will fuel our growth as an independent company and drive value for stockholders. Our more than 21,000 dedicated employees are committed to fulfilling our purpose to enrich the lives of those who produce and those who consume, ensuring progress for generations to come."
You can find the full announcement about the separation here.