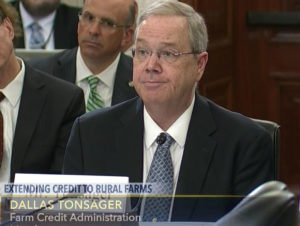 Farm Credit Administration board chairman and former USDA under secretary Dallas Tonsager died Tuesday of lymphoma in Falls Church, Virginia. He was 64.
Tonsager was appointed to the FCA board by President Barack Obama in 2015 and was designated chairman and CEO in 2016. Prior to that, he served as under secretary for rural development at the U.S. Department of Agriculture from 2009 to 2013. Tonsager grew up on a dairy farm near Oldham, South Dakota and was a graduate of South Dakota State University where he earned a Bachelor of Science in agriculture in 1976.
FCA Board Member Jeff Hall has been designated acting CEO. "Dallas dedicated his life to helping farmers, ranchers, and other rural Americans," said Hall. "Both at USDA and FCA, he worked hard to promote investments in rural communities. As chairman of FCA, he urged the Farm Credit System to work with borrowers experiencing stress as a result of the current downturn in the farm economy."
"He worked especially hard to ensure the success of the biofuels industry, as well as highlighting the healthcare and broadband needs of rural America," said House Agriculture Committee Chairman Collin Peterson of Minnesota. "His leadership and dedication to rural communities will be greatly missed."
The Tonsager family plans to host a funeral service in South Dakota and a memorial service in Washington.