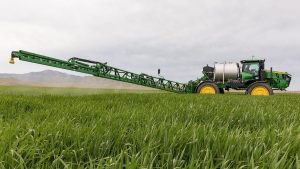 John Deere is introducing its biggest sprayer yet in 2020 – the 1,600-gallon (6057 liter) capacity R4060 Sprayer with the new CommandDrive

powertrain. In addition, the existing R4045 Sprayer will come standard with CommandDrive beginning starting in 2020. Both sprayers are designed for large, broad-acre cropping systems and high-volume applications.
CommandDrive is an intelligent powertrain that uses a single hydrostatic pump to power all four variable-displacement wheel motors. If one or more wheels lose traction, the system adjusts to slow the slipping wheels and directs more flow to the other wheels with traction in order to power the sprayer over the terrain. The powertrain helps the sprayer more easily handle hills, soft soil, and other conditions where additional traction is needed.
In addition, CommandDrive works in tandem with the engine and entire sprayer system to automatically increase RPMs when more power is needed and to maintain proper spraying. With the powertrain's Auto Mode setting, operators can maintain selected ground speed and application rate at lower engine RPMs, while the Auto Idle setting reduces the engine's RPM to 900 when the machine is stopped. Both functions help reduce fuel/DEF consumption and provide a quieter cab for the operator.