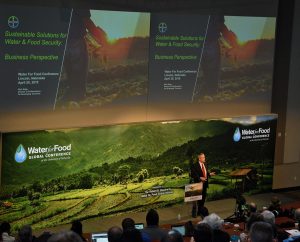 Bayer is the gold sponsor at this week's 2019 Water for Food Global Conference "Water for a Hungry World: Innovation in Water and Food Security."
"We believe that innovation, technology, digital tools and partnerships are critical to address the complexity (of water and agriculture issues)," said Bayer Director of Collaborations for Developing Countries Mark Edge.
Edge presented "Sustainable Solutions for Water & Food Security – Business Perspectives" at the opening of the conference Monday. Listen to his remarks and brief interview here:
Presentation by Mark Edge, Bayer
Interview with Mark Edge, Bayer, support of the work of the Institute:
Interview with Mark Edge, Bayer
WATCH THE LIVE STREAM
All the plenary sessions in the auditorium will be steamed live and other sessions will be video recorded and posted on YouTube following the event. The full agenda is available online.
You can find conference photos here: 2019 Water for Food Global Conference