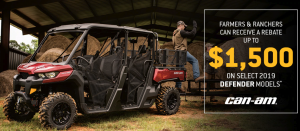 Hey farmers and ranchers, Can-Am is offering approved ag businesses a rebate worth up to $1,500 on select 2019 Can-Am Defender models. The program runs from now until June 30, 2019. Here's some more information.

Built for a hard day's work, the Can-Am Defender lineup includes a wide range of packages and engine options to fit the unique needs of workers everywhere. Defender side-by-side vehicles can tow up to 2,500 lbs. They can also handle up to 1,000 lbs in the innovative cargo box, which features cut-outs in the bed for five-gallon buckets to stay in place while driving, anchor points, and a large, easy to use, tailgate.
Farmers and ranchers can make work easier and more comfortable with the wide range of accessories available straight from the factory. Accessories offered by Can-Am include windshields, heaters, bed toolbox, tool holders, additional lighting, snow plows, track kits, and a variety of racks for more organized storage.
Click here to learn more about the U.S.A. Ag Sales Event.
For more information on all Can-Am vehicles, visit www.can-am.brp.com.
Having used these vehicles I can personally attest to their ruggedness and value in the situations you might need them for. I have had the opportunity to test drive them for deer hunting the last two seasons.