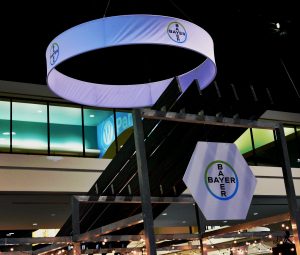 Bayer had a lot going on at Commodity Classic this year.
Kicking off with the pre-Classic AgVocacy Forum, Bayer had more experts than ever on a greater variety of topics since the integration with Monsanto last year. The Forum offered insights on trade, technology, the future of food and grower perspectives, as well as a chance to hear from Bayer executives Bob Reiter and Lisa Safarian.
On the Commodity Classic trade show floor, Bayer was spread out to encompass brands such as Channel, DEKALB Asgrow, and The Climate Corporation.
In addition, Bayer held a learning session on how Integrated Weed Management pays off. Moderator Arlene Cotie with Bayer discussed the topic with panelists Chad Leman, Farmer from Eureka, Ill.; Jason Norsworthy, Professor in Crop, Soil, and Environmental Sciences Department, University of Arkansas; Bill Chism, Senior Biologist at the U.S. Environmental Protection Agency. Listen to and/or watch it below.
You can find all of the content – 223 photos, 27 audio files, and one video – on the AgNewsWire Bayer AgVocacy virtual newsroom.
Audio file – Bayer Classic 19 Learning Session