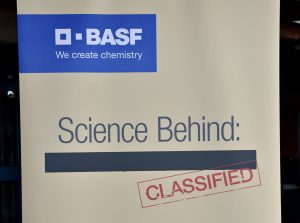 BASF unveiled its latest fungicide called Revysol during its annual pre-Commodity Classic Science Behind event on Wednesday.
The new triazole is a DeMethylation Inhibitor (DMI) fungicide that BASF plans to label for more than a dozen crops, using the brand name Veltyma for corn and Revytek for soybeans. EPA registration for Revysol is expected to be finalized this summer.
Get the details in the presentations from the Science Behind event from BASF Product AI Manager Matt Bradley and Technical Marketing Manager Paula Halabicki.
The Fungicide Landscape –
Matt Bradley, BASF – Revysol Announcement
The Future of Fungicides –
Paula Halabicki, BASF, Presentation