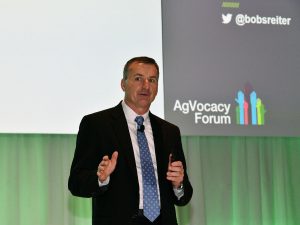 The Crop Science division of Bayer is hosting its 14th AgVocacy Forum prior to Commodity Classic this week in Orlando, the first time since the completed acquisition of Monsanto, so one of the most interesting sessions for the media attending the event so far has been one with the executives leading the new company.
Bob Reiter is Global Head of Research and Development, Crop Science for Bayer. With a doctorate in plant science and genetics, he worked for Monsanto in a number of roles since 1998. He talked about the continuing need for innovation in food production, such as short stature corn which is in the Bayer pipeline.
"At the end of the day, corn yield is coming primarily from packing more plants per acre," said Reiter. "Short statue corn sets us up for a whole new standard."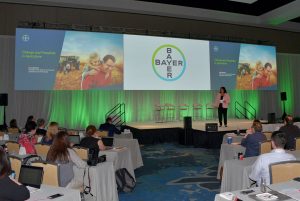 Lisa Safarian, President and Head of Commercial Operations for Crop Science, North America also comes to the integrated company from Monsanto where she spent 25 years in leadership positions. She talked about change and possibility in agriculture and using data to help growers reduce risk and optimize performance on every acre.
"The innovation for tomorrow is not about a specific product, it's about data and how we pull that data together," said Safarian.
Both executives took questions from the audience after their remarks – listen to the whole session here:
Driving Innovation Forward Session