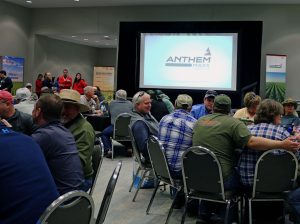 FMC Agricultural Solutions held three learning sessions at this year's National Farm Machinery Show to provide information to growers about some of the company's new products like Lucento.
The sessions focused on disease, pest, and weed management and control and some of the solutions that FMC offers for growers.
In the first session, Bruce Stripling and Nick Hustedde discussed disease treatment and technology and Lucento –
NFMS19 FMC Learning Session 1 – disease treatment
The second session featured FMC subject matter expert Bob Hooten discussing root system protection and 3Rive technology –
NFMS19 FMC Learning Session 2 – root system protection
Last but not least, Drake Copeland and Matt Wiggins talk herbicide resistance and weed control –
NFMS19 FMC Learning Session 3 – weed control
Watch for more updates from FMC this week at Commodity Classic and the Mid-South Farm and Gin Show.