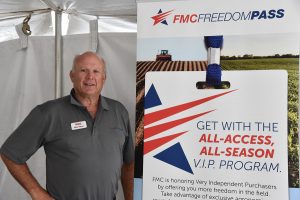 We were shocked and saddened to hear of the passing this week of Mike Harper, who worked for FMC Agricultural Solutions for 39 years – starting as a Chemical Sales Rep, working up to Industry Relations Manager in 2017.
I interviewed Mike several times over the years, most recently at last year's Commodity Classic. He was always very passionate about his work and exuded an intense focus and energy whenever I saw him. Here's that interview from last year. I think you'll hear that focus and energy in his voice.
From the 2018 Commodity Classic: Interview with Mike Harper, FMC
"Mike will be remembered for his contributions to FMC and to the industry, but more than that, he'll be remembered for his individual contributions to the people he worked with. Mike was always the first to lend a helping hand or to volunteer for any project. He was a friend and a mentor to all, whether they were a long-tenured FMC employee or an intern starting their first day," said Amy O'Shea, VP and NA business director. "He had this dry wit and sense of humor that could make you laugh, but also make you stop and think. There will never be anyone like him."
I will be one of those who will miss him at Classic next week and will be sending prayers out to his family and co-workers. There is more information about Mike and services in this online story.