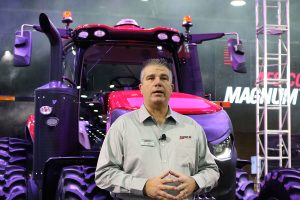 During the 2019 National Farm Machinery Show Case IH unveiled the new AFS Connect Magnum Series Tractors. Working with me here at NFMS is Laura Handke who took photos, recorded the unveiling presentation and interviewed Bill Webber, North America Marketing Manager for High Hp Tractors, Case IH Brand.

Case IH is unveiling new AFS Connect

Magnum

series tractors, giving producers a new way to run their businesses — with the freedom to adjust, manage, monitor, transfer data and partner the way they want. Powered by Case IH Advanced Farming Systems (AFS) precision technology, the tractor is outfitted with a new display, operating system, receiver and completely redesigned hardware environment that allows for remote display viewing, remote support capabilities and more. Plus, a redesigned cab delivers comfort, storage and easy-to-use controls for ultimate productivity.
The AFS Connect portal is a gateway to the AFS Connect Magnum series tractor. It allows farm managers to precisely manage their farm, fleet and data from a desktop or tablet/mobile device anywhere while feeling assured their data is securely transferring to and from the cloud. Users can log in to AFS Connect to view current field operations, fleet information, agronomic data and more, remotely keeping an eye on their operation as if they are in the cab. Farm owners and managers then have the freedom to share selected agronomic data — down to the field level — with third-party partners of their choosing.
You can find more information on the Case IH website and in the interview and presentation audio below.
Interview with Bill Webber, North America Marketing Manager for High Hp Tractors, Case IH Brand: Interview with Bill Webber, Case IH
Case IH AFS Connect Magnum Series Tractors Unveiling Presentation: Case IH Unveiling Presentation