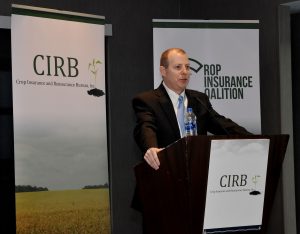 This time last year, the Crop Insurance and Reinsurance Bureau (CIRB) was concerned about what might happen with the new farm bill. This year, members are pretty pleased with how it all turned out.
CIRB chairman Zane Vaughn with ARMtech Insurance gives a lot of credit to the organization's "Protect Crop Insurance" campaign. "It was very beneficial for staff on Capitol Hill gaining awareness of the program, what it does for farmers in their districts and their states," said Vaughn. "That was a great outreach tool for us."
Vaughn says this year's annual meeting for CIRB is the largest ever and there is plenty of energy and optimism in the industry.
Listen to this interview with Vaughn from the 2019 CIRB Annual Meeting this week in San Diego.
CIRB2019 Interview with Chairman Zane Vaughn
2019 Crop Insurance and Reinsurance Annual Meeting photo album